13th October
£99 per person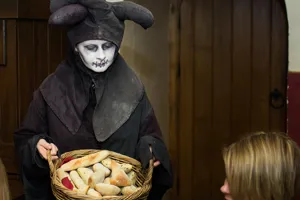 A dining experience like no other
Travel back in time and experience some of Warwick Castle's most horrifying residents who are feeling anything but friendly!
With scarily good entertainment and a sumptuous banquet this really is an evening to die for.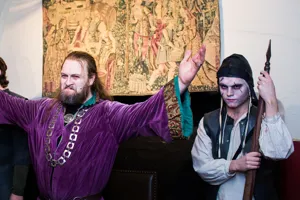 Your frightful package includes:
A trip through the Castle Dungeon experience.
Glass of prosecco to celebrate surviving your gruesome journey.
Three course banquet in our Undercroft.
Half a bottle of house wine with your meal.
Live entertainment from the castles horrifying residents.
Over 18's only
To view your menu on the evening, please click here
Guests should arrive between 7pm and 7.15pm. Due to the schedule of tours, guests arriving after 7.30pm may miss their Dungeon Experience and will be escorted directly to dinner
The dress code for the evening is smart casual but you can enhance your evening by dressing up in costumes!
For dietary requirements, please contact us.
If bookings are made separately and you wish to sit next to another group, please contact us: events@warwick-castle.com
The evening concludes at 11pm
Both the Castle Dungeons and the Undercroft have a number of steep spiral staircases so may be unsuitable for some guests with reduced mobility or guests with hidden disabilities.
The Castle Dungeon is an immersive experience that should only be visited by the bravest and those with strong stomachs...
Due to the scary and jumpy nature of this attraction, The Castle Dungeon is not suitable for pregnant women, people with heart conditions or those of a nervous disposition.
The Castle Dungeon is not suitable for people with claustrophobia due to the enclosed space, narrow pathways and small rooms.
There are spiral staircases without handrails throughout.
The experience features strobe lighting, with the addition of extra lighting and special effects in the final room.
Some areas of The Castle Dungeon include minor motion movements and smoke effects which may not be suitable for guests with back or lung conditions - if you would like any further information regarding this please contact us before you book.
Registered assistance dogs are not permitted to enter The Castle Dungeon due to low lighting, steps throughout, light effects and loud noises.