Hosting magnificent events for over 600 years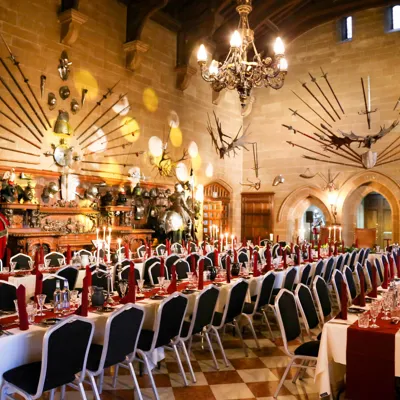 Dine like royalty
Host your grand business event at Warwick Castle.
Invite your guests to make their mark in our history books alongside the Kings and Queens who have feasted in our halls since the 15th Century.
Whether your event is small and intimate or grand and gracious, our corporate venue hire options and tailored entertainment will help you create a bespoke and unforgettable occasion. The castle's spectacular spaces suit all kinds of events, from receptions and banquets to live music and parties, all set by the banks of the River Avon in the heart of England.
Photo credit: Peter Blanchflower
The Great Hall
As the largest room in the castle, the Great Hall is a remarkable venue fit for black tie dinners and drinks receptions and has been holding banquets since the 15th Century. At Christmas time, guests can also enjoy feasting and dancing under the twinkling lights of our 20-foot Christmas tree.
Capacity –
Availability -
Guest arrival from 7pm onwards
Enquire now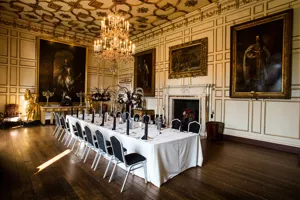 The State Dining Room
Hosting royals since 1763, the State Dining Room is an impressive venue which can be hired as a private dining room, ideal for executive dinners and special occasions.
Capacity –
40 dining
95 theatre style
Availability –
Guest arrival from 7pm onwards
Enquire now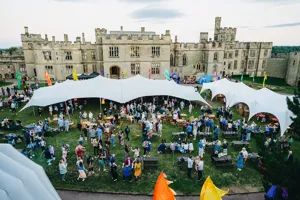 The Central Courtyard
Surrounded by the towers and ramparts, the Central Courtyard is the ideal location for a company summer party or evening reception. With ample space for food vendors, bars, stages and entertainment, this historic venue is not one to miss.
Capacity –
3000 standing
Up to 2500 seated depending on configuration
Availability –
Set up from 5.30pm for guest arrival from 7pm onwards
Photo credit: Andrew Craner
Enquire now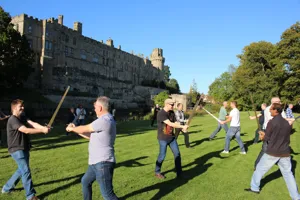 Team Building
Ignite the warrior within and battle your colleagues with our Knight School team building activities! Or explore the castle inside and out with our problem-solving treasure hunt, the Castle Crusade.
Capacity –
Availability –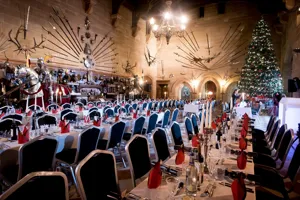 Christmas Parties
Witness the clashing of swords as as you take part in a festive banquet, or enjoy a private dinner and disco with your nearest and dearest in the shadow of our 20-foot high Christmas Tree.
Capacity -
108 Tournament Feast
120 Dinner & Disco
180 standing
Availability –
Guest arrival from 7pm onwards
Enquire now
Shared Party Nights
Join other Christmas party-goers in our Great Hall! Our shared party nights are ideal for groups of up to 30.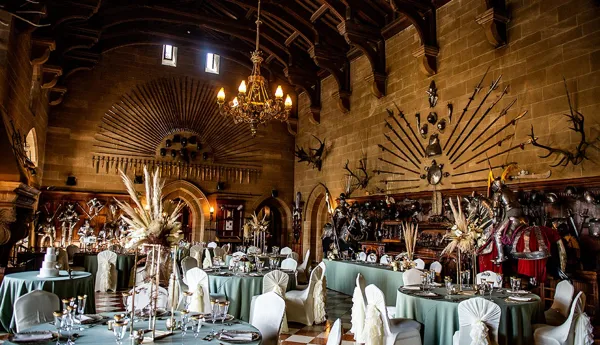 Virtual Tour
Explore the magnificent interior of Warwick Castle with our Virtual Tour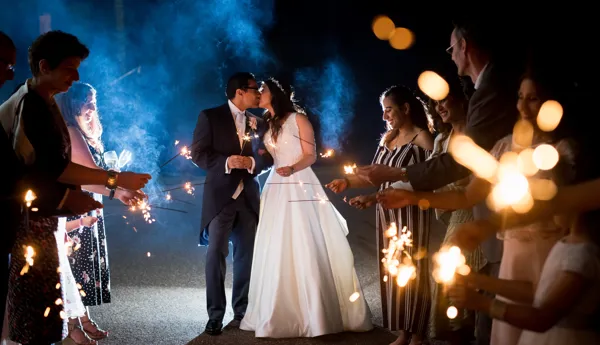 Contact Us
Get in touch with our specialist team who will be able to help you plan every little detail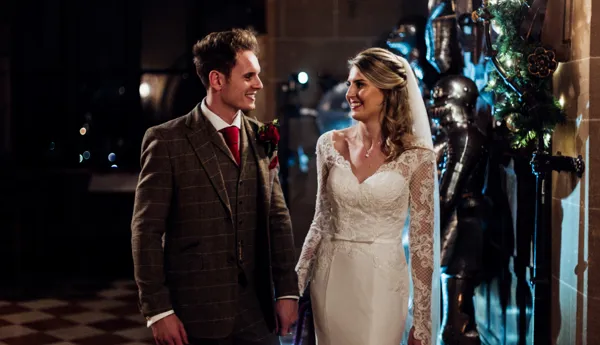 Weddings
Our spectacular rooms can also be booked for your wedding. Photo credit Leigh McAra.
From the first site visit to see the castle, right through to packing everything away at the end of the event, the Warwick Castle team were attentive, super helpful, and facilitated the delivery of an event that our guests absolutely adored. We reserved the Knights Village for our guests, and this added an extra touch of magic to the evening. The castle is a fairy-tale place to hold an event.
Team17 Game Launch - February 2023
We really want to say a HUGE thank you and express our sincere gratitude for such a wonderful evening … We haven't spent much time together recently, so this was a nice treat. The Great Hall is such stunning venue and it was completely perfect for our size party. Once again, thank you and the whole Warwick Castle Team for a truly delightful evening.
Corteva Agriscience – July 2022
Of all the places we've used for events in the UK and abroad, [Warwick Castle] took such a directive that there was actually very little for us to do, it was a fantastic experience end to end, and we couldn't have asked anymore.
Private Event - December 2021