Castle After Dark
On selected evenings this October, brave the darker side of Halloween at Castle After Dark. From fearless families to brave scare-seekers, see if you have what it takes to conquer the UK's scariest castle. Brace yourself for a frightful festival of entertainment and spine-chilling scare mazes this Halloween.
Selected dates 21st – 31st October
Tickets from £21.50 per person
Recommended for age 10+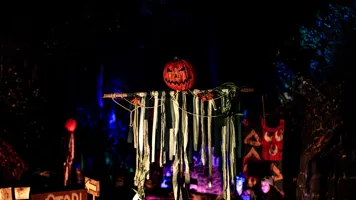 The Darker Side of Halloween
Brace yourself for an evening of spine-chilling scares. The castle courtyard transforms into a frightful festival of entertainment as you prepare for an evening you'll never forget. There's terror at every twist and turn across three thrilling scare attractions within the Castle and grounds.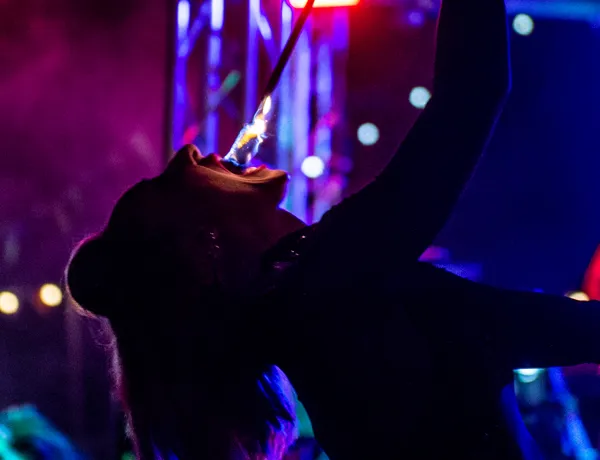 Festival of Frights
Experience a thrilling festival of performers in the castle courtyard. Brace yourself for an evening of entertainment, with live music and DJs, spine-chilling street food and drinks, fearless firebreathers and more!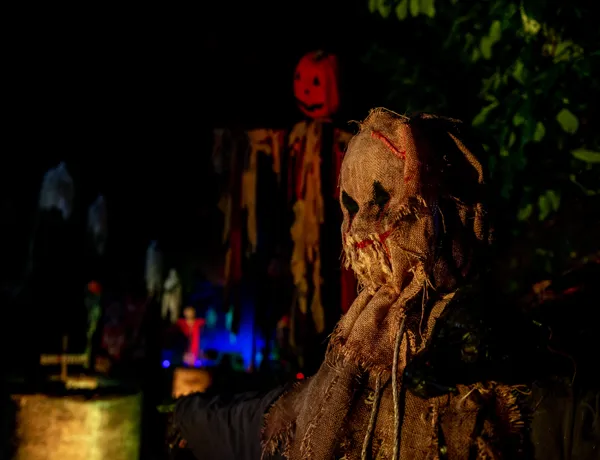 Spine-chilling Scare Mazes
As Halloween approaches, face your fears and venture through unsettling rooms, underground mazes and head through the Hangman's Hollows in the darkness.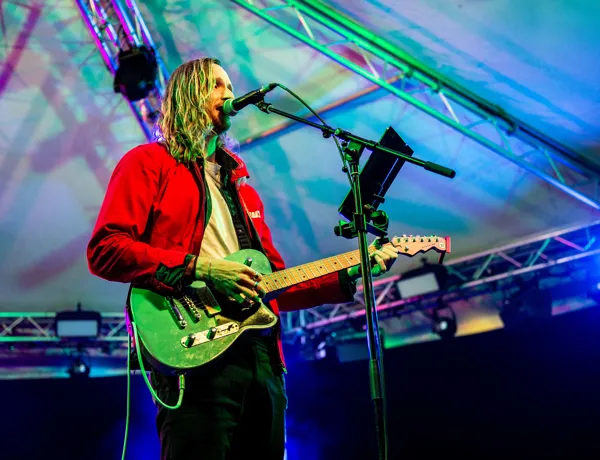 Eerie Entertainment
Listen to live music and DJs in the courtyard as you prepare for your next terrifying encounter.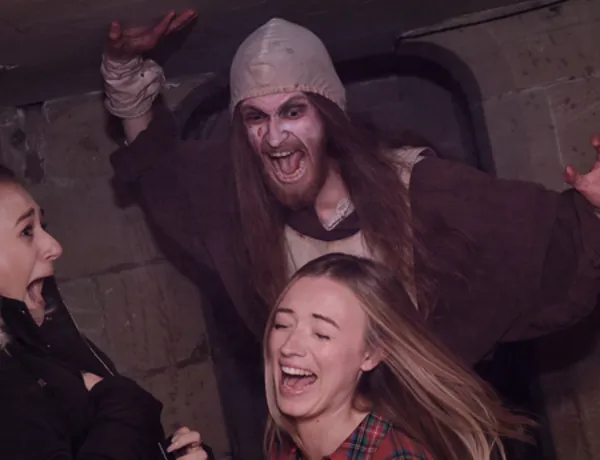 The Castle Dungeon
Encounter Warwick's most gruesome history as you venture through The Castle Dungeon after dark, with scary true stories, 'orrible actors and hilarious surprises in store (additional charges apply). Recommended for ages 10+.
Stay overnight
Turn your evening of spine-chilling scares into a fearsome overnight stay with a short break in our Fright's Village.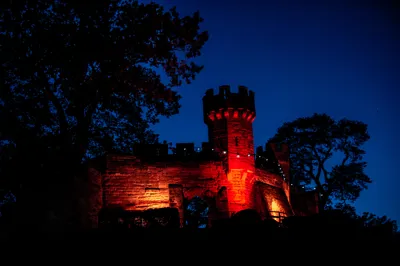 Can't wait until Halloween?
Dine with our most gruesome residents for a Friday 13th special. With scarily good entertainment and a sumptuous banquet this really is an evening to die for.
Thrilling festival-themed evening
Access to live entertainment, food & drink
Only on 21st, 27th - 29th & 31st October from 6pm
Short Break
Per person from only
£100
Turn your spectacular spooky day into a fearsome family overnight stay and spend the night in Fright's Village. You'll find Halloween themed décor, enjoy evening ghost stories and a visit from our witches or wizards at breakfast!
Looking for spooks not scares?
The Haunted Castle let you explore over a thousand years of spooktacular history with haunting half-term family fun at Warwick Castle.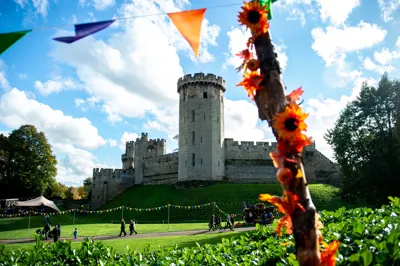 Calling all Annual Passholders!
Don't miss this spine-chilling passholder perk! Brave the darker side of Halloween with discounted tickets for passholders.
Frequently Asked Questions
A festival-themed Halloween evening event, filled with live music & entertainment, offering the very best in street food and drink, and features sinister scare mazes for daring thrill-seekers. This is more suitable for ages 12 and above.
When considering your ticket choice please be aware, we also have The Haunted Castle. A daytime October Half Term spooky offering, suitable for all ages!
Yes. If you wish to attend both Halloween events at Warwick Castle, you will need to pre-book a ticket for each event.
Yes, there will be certain attractions which have limited capacity and therefore a timeslot for entry. More information on this will follow.
The Castle Dungeon is a standalone separate attraction and for this you will need to purchase an additional ticket alongside your entry ticket. Please note this is suitable for those aged 10 and above.
This will mean that the date you want is fully booked. If this is the case, our calendar will show the next available date.
The Castle After Dark are both extremely popular and therefore the castle can be very busy during this time. Halloween weekend typically sees the highest visitor attendance and therefore our attractions and food outlets will be very busy on these days. On very busy days it is possible that some attractions may reach capacity and be unavailable to experience.
If you have purchased Dungeon tickets as well as castle entry then we recommend arriving at the castle at least 1 hour before your dungeon time slot and then arriving at the dungeon itself at least 10 minutes before your time slot. Please speak with a member of staff upon arrival if you are close to your timeslot when you arrive. We are unable to change dungeon ticket time slots, or offer refunds, especially on busy days. Please note anyone visiting the dungeons must be over the age of 18 or be accompanied by an over 18 year old. We also do not recommend the dungeons for anyone under the age of 10.
Yes. Day and evening parking charges will apply in both of our car parks.
Some of our Annual passes will include parking in our Stratford Road car park.
Payment via the Warwick Castle app or car park pay points is available.
No. We are only accepting card payments. These should be contactless, where possible.
We are afraid that any guest under the age of 18 must be accompanied by an over 18 year old.
Yes, but the following attractions are unsuitable for wheelchair users:
Upscares Downscares
The Kingmaker
Only the last 4 rooms of The Castle Dungeon
All tickets must be pre-booked in advance, including Carer's tickets. Please add these tickets to your basket when booking, proof of carer status should be shown upon arrival.
Yes, please come prepared for all weather conditions. Extreme weather conditions may interrupt some shows, this will be advised via the Warwick Castle App on the day.
We recommend our Castle After Dark event for children aged 10 years and older.
The Haunted Castle is a family attraction and suitable for all ages.
Your pass does not give you access to the Castle After Dark event, however discounted tickets are available here.
Yes. We encourage dressing up to visit us at Halloween, however character masks are not allowed within The Castle Dungeon attraction. We are a family attraction and we ask that you consider this when making your costume choice.
Yes. We do have shows throughout the day and evening where lighting will be flashing and moving.
No, we will only be accepting pre-booked tickets. 
You will receive a confirmation email with your unique barcode which will be scanned by a member of staff on arrival. You can bring this email as confirmation on your phone, tablet or printed.
We strongly recommend taking screen shots of each barcode before arriving at the castle. You can also add your tickets to the Warwick Castle app for even easier entry to the castle.
Any promotions will state what dates they are eligible and how they should be booked, in the promotion terms and conditions. Promotions are only valid against the daytime ticket and not the evening ticket.
Yes, all tickets must be pre-booked in advance, including children under 3. Please add these tickets to your basket when booking online.
Guests are not permitted to bring alcohol on site. There is a bar on site where you can purchase alcoholic and non-alcoholic drinks.