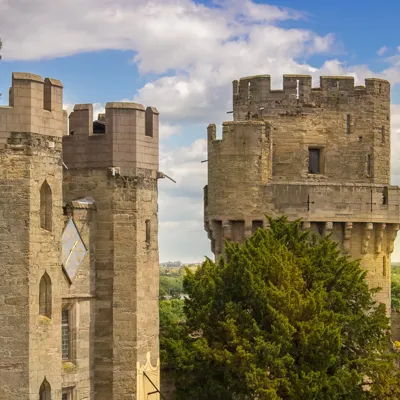 Stay in a historic medieval Castle in the heart of England
In the picturesque county of Warwickshire overlooking the the River Avon, you can stay in a Castle hotel. Explore a magnificent stone built Castle and watch history come to life as you relive the Norman conquest of England. Warwick Castle has been attacked, besieged and even damaged by fire over its 1,100 years of history but continues to stand strong today as one of the UK's most visited and popular Castle hotels.

Perfect for a romantic getaway or a historic escape, live like royalty for the night in Warwick Castle's beautiful Tower Suites complete with concierge service, complimentary champagne on arrival and your very own private tour of the Castle.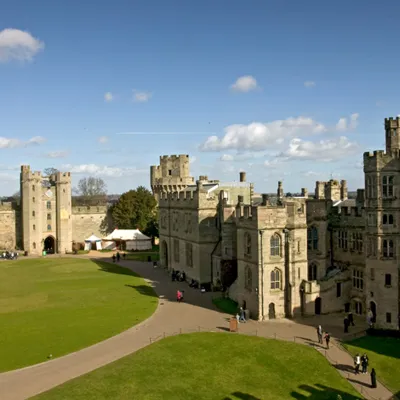 Explore Warwick Castle
Tour the stunning 64 acres of the rolling Peacock Gardens once maintained by Lancelot 'Capability' Brown before exploring the original motte and bailey fortress founded by William the Conqueror in 1068. Approach the iron portcullis and gaze up at The Defensive Towers guarding the Castle hotels, discover secret passages hidden around the grounds before being summoned to dine with the Earl of Warwick during a sumptuous medieval dinner banquet. Once the sun sets, retire to your decadent Tower Suite to spend an unforgettable evening in surroundings fit for royalty.
For a truly unique setting at a Castle hotel, escape to your very own private chamber and stay in Warwick Castle itself, where you can experience the traditional grandeur of Castle's nobility in one of the luxurious Tower Suites. Sip on complimentary champagne whilst gazing out over the rolling landscaped gardens before your very own private tour of the Castle and its stunning grounds.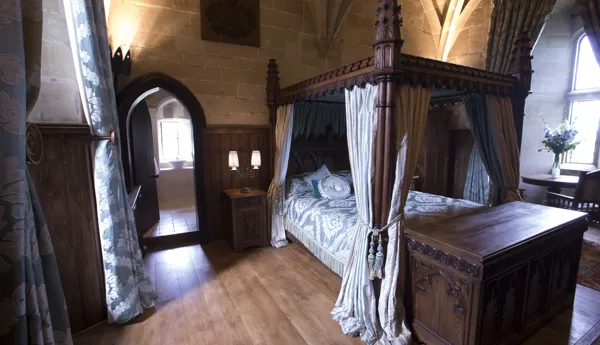 Peacock Suite
With medieval architecture draped in regal tapestries, stained glass windows and a 4 poster king size bed, the Peacock Suite offers pure decadence for a special occasion.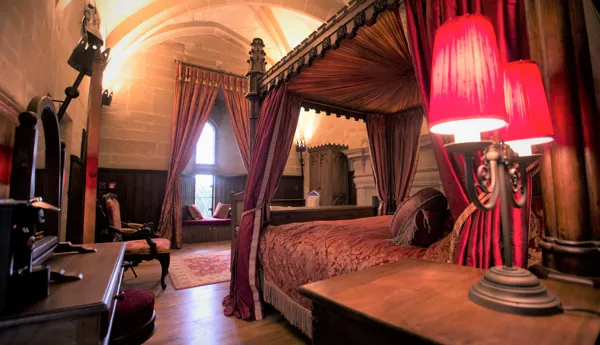 Rose Suite
A Castle hotel with luxury royal theming, knights armour, views overlooking the grounds and two extra pull out beds for a perfect family getaway.