Spooktacular Fun at Warwick Castle This October Half Term!
Friday October 20th 2023
Jemma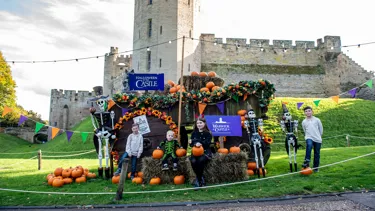 Are you ready for a Halloween adventure like no other? If you're seeking thrills, chills, and a whole lot of fun this October half term, look no further than Warwick Castle. The castle comes alive with over 10 new live shows and attractions, all designed to make your Halloween truly unforgettable. 
During the day, explore The Haunted Castle, where spooky residents await, offering family-friendly performances, mysterious mazes, eerie entertainment, and frightful treats. The castle's thousand years of haunted history come to life, creating the ideal destination for a thrilling family outing.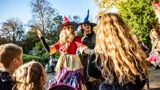 This year, be prepared to be enchanted by the following new attractions: 
The Witches of Warwick: The wicked Witches of Warwick are back for 2023! Join them for a lively and comical show filled with cackles and mischievous magic, perfect for the whole family. 
We also have a whole range of family friendly attractions and shows including:  
Dead Centre Stage: The Dead Centre stage is where you'll find endless family fun and games. Sing and dance along with colourful characters in a series of interactive family shows throughout the day. You can enjoy spooky stories, quizzes, games, and even a Halloween disco. 
Haunted Hollows: Back by popular demand, the Haunted Hollows return with new twists, turns, and creepy characters. Spooks and surprises lurk around every corner in this fun-filled journey.  
Spooky Schools: Join the castle's spookiest residents for haunting half-term fun as they teach little pumpkins how to slay giants, share hilarious Halloween health and safety tips, and encourage a bit of mischief along the way. 
Experience spine-tingling Halloween adventures with our expert guides on Ghostly Guided Tours at Warwick Castle. Delve into Warwick Castle's eerie past with our Halloween History Tours, offering ghostly tales and witchcraft history options. Uncover the castle's mysteries through thrilling adventures like the Junior Ghost Hunt, where you become a ghost hunter, or put your detective skills to the test with The Curse of The Kingmaker as you solve a mystifying puzzle to lift the ancient curse. Join us for unforgettable Halloween excitement, combining history, mystery, and adventure in the heart of Warwick Castle. 
But that's not all! For those who dare, Warwick Castle offers a spine-tingling nighttime experience with Castle After Dark.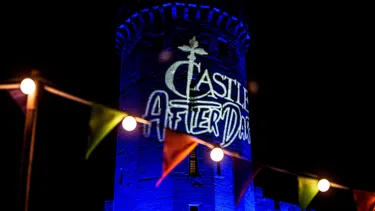 On selected evenings from October 21st to 31st, you can brave the darker side of Halloween. Are you fearless enough to conquer the UK's scariest castle? Here's what awaits you: 
Spine-Chilling Scare Attractions: 
The Glass Coffin (Age 10+): Dare to face your fears and help summon a spirit trapped in a glass coffin. Escape the deadly plague hiding in the underground vaults of Warwick Castle. 
The Pestallance (Age 10+) - The deadly plague of medieval Europe has returned! Escape the hidden infected lurking beneath the castle in its underground vaults. 
Hangman's Hollows (Age 10+): Venture through the eerie hollows at night, where something sinister may be following you. Join the condemned and take the final steps towards the gallows in the haunting Hangman's Hollows. 
Eerie Evening Entertainment :As the sun sets, brace yourself for an evening of frightful festival entertainment. Enjoy live music, DJs, spine-chilling street food, drinks, and fearless firebreathers. 
With so much to see and do, Warwick Castle is the ultimate Halloween destination. Whether you're seeking family-friendly fun or spine-tingling scares, there's something for everyone. Don't miss out on this wickedly good time and thrilling frights!