Our Top Tips for a Warwick Castle Wedding
Friday May 28th 2021
Aimee and Hollie
Weddings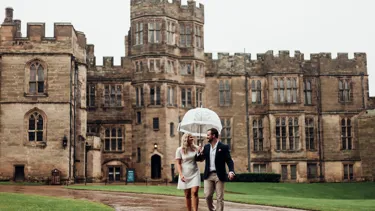 We're so excited to welcome back our couples who planned weddings for last year, alongside newly engaged couples who are just beginning their wedding journey. In anticipation of our Wedding Open Evening on Wednesday 30th June, we're looking ahead to the wonderful weddings we can offer.
Register to attend our open evening
Whether you're a traditionalist at heart, looking for a modern twist on a classic, or you would favour an extravagant theme, the castle is the perfect backdrop. We've hosted many understated, unique, and unconventional weddings. Our State Rooms are incredibly versatile, making them the perfect setting for your fairy tale, winter wonderland or round table knight's reception. We've also successfully transformed our Great Hall into a vision for a whole host of themed weddings, spanning from Beauty and the Beast and Harry Potter to Game of Thrones. Most importantly, we tailor your wedding to you, and we have a dedicated team ready to turn your vision into a magical reality. Today, we catch up with Hollie from our Events team about her top tips for planning your wedding with us.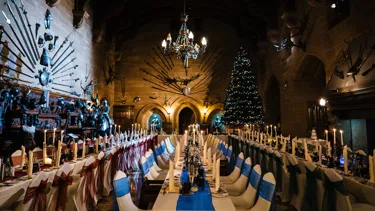 Hollie's Favourites:
Favourite Ceremony Venue – I cannot recommend the State Dining Room highly enough. It's so light and spacious, and that gorgeous white and gold ceiling has the magical property of fitting absolutely everyone's colour scheme. It's a very special venue.
Favourite Reception Venue – It has got to be the Great Hall. It's so grand and beautiful, when couples and guests arrive, they spend ages just staring in awe. It also lends itself to many styles, with an original classic feel that can be adapted to suit everyone.
Favourite Enhancement – We have so many incredible enhancements to really take your wedding to the next level, but my personal favourite is the Mannequin Knights. Our trained knights put on a surprise spectacle for you and your guests, so this enhancement is for everyone. It's very different and makes optimal use of the castle setting.
Favourite Wedding you've worked on – We once hosted a medieval Christmas wedding that was amazing. The castle was already dressed for Christmas and it looked so regal and romantic. Everyone - wedding party, guests and staff, were all in period dress, and it was a very traditional, authentic medieval ceremony, which was so exciting to host in such a historical venue.
Top Tip 1:
Surprise each other. We love working with couples to add those special extra touches. One of the most rewarding parts of this job is working with a bride or groom to add a fun surprise within the big day for their partners. We've had some great surprises over the years; one highlight included the bride surprising her groom (a big Star Wars fan) with Knights fighting with lightsabers. It was a great quirky nod to his favourite movie without overshadowing the more classical elements to their wedding.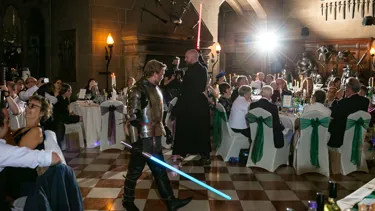 Top Tip 2:
Use your wedding planner. We want you to enjoy your planning process. Our dedicated team is a fountain of knowledge on hosting a vast variety of weddings in the castle. We've had varied menus, themes and levels of traditionalism, so we're always up for a challenge! If you'd like help organising costumes for a medieval wedding, compiling a menu to suit a varied guest list, or even just picking a colour scheme that works for you, your wedding planner will be on hand to help.
Browse our Wedding Brochure here.
Top Tip 3:
Consider all seasons. We're seeing more couples opt for ceremonies outside of the summer season, and it makes for such a beautiful wedding. In winter, couples can capitalise on the joyful and romantic aura of the festive season. Our sweeping Great Hall, decked for Christmas with warm lighting and a magnificent tree, is the perfect setting for your winter ceremony or reception.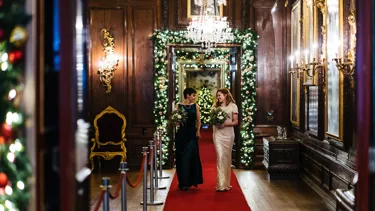 Top Tip 4:
Pinterest is invaluable. Sometimes it can seem difficult to collect all your ideas and visions for your wedding in one place and describe them effectively to your planning team. Pinterest is full of incredible imagery picturing the most classic of weddings to the most niche. We suggest creating a vision board and sharing it with your wedding team. From there we can help you source suppliers that understand the castle and translate your Pinterest from screen to dream.
Top Tip 5:
This is your wedding. Most importantly, we want your wedding to be as special and personal to you as possible. We are completely dedicated to providing a bespoke experience for each couple. If you have a query about what's possible, or if you want to kickstart planning your dream wedding at Warwick Castle, contact us today!
Photo Credits
First picture – Amy Rose Deffley
Second picture – Johnny Dent
Third picture - Damian Burcher
Last picture – Jonny Dent