Rainy Day Promise
If you purchased your tickets in advance of your visit, but poor weather then impacted your experience on the day, return for a second day for free.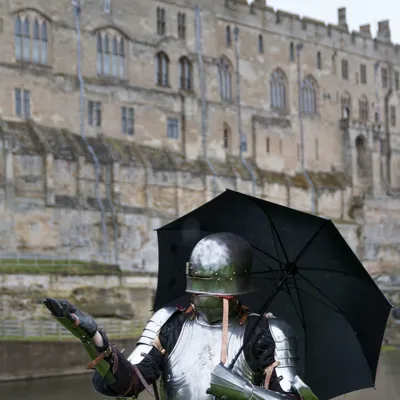 Our poor weather pledge
We want everyone to enjoy Warwick Castle at it's best. If it rains persistently for more than one hour during your time with us – and you booked your tickets in advance of your visit - you can return for free.
Step 1: Check that your visit date is eligible for our Rainy Day Promise below.
Step 2: Decide when you'd like to have your return free visit. It must be within 60 days of your original visit date and restrictions apply. You can check these below.
Step 3: Read our full Rainy Day Promise terms and conditions below.
Step 4: There's no need to pre-book on the day of your free return visit. Simply produce your original tickets at one of our ticket windows and a member of our team will exchange them for you.*
* Subject to availability. 
What you need to know...
| | |
| --- | --- |
| Rainy Days:         | Redeem by: |
| 15/03/2020 | 03/09/2020 |
| 18/03/2020 | 06/09/2020 |
| 07/07/2020 | 15/09/2020 |
| 08/07/2020 | 16/09/2020 |
| 09/07/2020 | 17/09/2020 |
| 13/07/2020 | 21/09/2020 |
| 25/07/2020 | 03/10/2020 |
| 06/08/2020 | 15/10/2020 |
| 13/08/2020 | 22/10/2020 |
| 17/08/2020 | 26/10/2020* |
| 19/08/2020 | 28/10/2020* |
| 25/08/2020 | 30/10/2020* |
| 27/08/2020 | 30/10/2020* |
Our Rainy Day Promise is only valid when it rains continuously for more than one (1) hour - as per the dates listed above. Weather conditions are recorded by the Warwick Castle Management Team and our decision is final.
* Restrictions Apply. Please see Restrictions below. 
Due to the limited ticket availability and reduced capacity that we have in place to ensure our guests have a safe and socially distant visit, we're unable to accept Rainy Day return visits on the following days:
24th October 2020 to 1st November 2020
28th November 2020 to 4th January 2021
Your free return tickets will only be issued upon presentation of the original ticket(s) from your first visit. Photocopies or booking references cannot be accepted.
No cash alternative is available, tickets cannot be re-sold or exchanged.
This offer cannot be used in conjunction with any other offer.
Return visits are subject to availability. Please check our "Plan Your Visit" page to check our opening times.
Return visit tickets can only be exchanged for the same original ticket type (i.e. an Adult ticket for an Adult ticket).
The Castle Dungeons, or any additional paid-for activities are exempt and do not apply.
Tickets are only valid for a single second free visit to Warwick Castle. You cannot transfer your free return visit for an alternative date, should it rain again.
Car parking charges and full attraction regulations apply.
Warwick Castle has the right to refuse entry and withdraw the Rainy Day Promise offer at any time.