Sundown Spectacular
Warwick Castle presents the ultimate Bank Holiday Weekend festival celebration.
25th - 26th August
Tickets from £25 per person
Suitable for all the family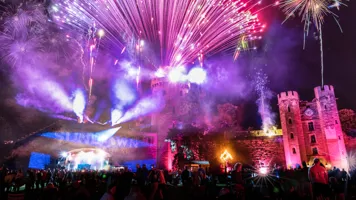 UNLEASH THE NIGHT!
Soak up the end of the summer at Sundown Spectacular with the ultimate festival celebration! Get fired up with live music from bands and DJs guaranteed to get the party started. Dive into delicious street food and drinks and take in the incredible performers. As the sun goes down, the castle comes to life underneath the summer stars, ending in a finale you'll never forget! 
Included in your evening event ticket...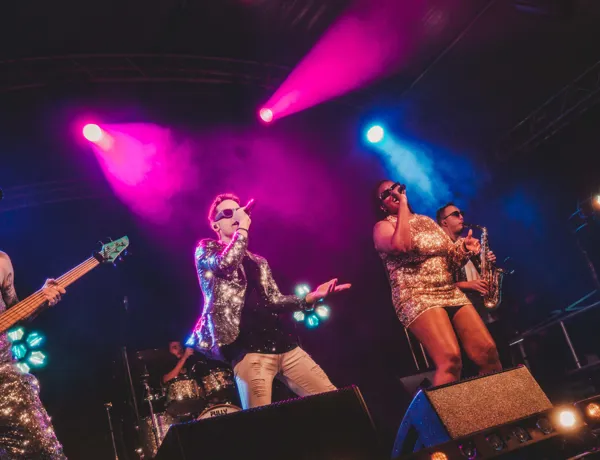 Live Music & DJ
We're bringing the party to the castle courtyard with live music and our DJ for a fun-filled festival celebration.
Festival entertainment
Incredible performers will take the festival atmosphere to another level.
Fireworks Finale
The skies of Warwick will come to life at sundown as spectacular fireworks light up the night in an epic evening you'll never forget.
Street food & drinks
Enjoy a festival feast as we bring the best in street food & drink to Sundown Spectacular.
Festival overnight stays
For the true festival experience make the most of your visit and stay overnight in one of our unique Glamping Tents within the castle grounds.
Find out more
Entry into the brand new Sundown Spectacular
The ultimate end of Summer celebration.
Access to live entertainment, food, drink & fireworks
Calling all Annual Passholders
Join us for the ultimate festival celebration! Merlin Annual Passholders can get a 20% Sundown Spectacular discount on the 'Show Only Ticket' where you will be asked to enter your Pass Number at the point of ticket purchase.
Pre-book now
Frequently Asked Questions
Sundown Spectacular tickets are entirely separate to our daytime tickets and can only be booked online, in advance. You can add an evening ticket to extend your day.
No, unfortunately 2 for 1 or discount vouchers are only valid for daytime tickets.
Yes, Merlin Annual Pass Holders and Warwick Annual Pass Holders can get a 20% discount on the Show Only Ticket. Once at the ticket booking screen you will be asked to enter your pass numbers.  You must also bring your Annual Pass with you as proof of ID, if you fail to present this you will have to pay the full event price on the day. You can book additional tickets for friends and family at the full price.
Children under the age of 18 must be accompanied by an adult over the age of 18. Whilst this event is family friendly it does contain pyrotechnics and loud music and therefore may not be suitable for very young children.
Please park in our Stratford Road Car Park (CV34 6AH). The Stables Car Park will be closed for this event. This will include our overflow field parking.  Please allow for a walk of up to 20 mins to the entrance area. If you have requirements for accessible parking please make yourself known on arrival at the car park. 
Evening guests can park for £3. Guests also attending the castle in the daytime can park all day and night for £6. Platinum and Gold Pass holders receive free parking. Subject to availability.
Access to the event will be via the main Warwick Castle entrance
No, bringing your own food and drink is not permitted during Sundown Spectacular. There will be a wide selection of catering units available for you to purchase refreshments during the evening. If you are visiting during the day and have brought a picnic with you, please return food & drink to your car or store in lockers for the evening event. 
Yes, there are designated zones for our disabled guests. Please ask a member of the Warwick Castle team for directions. Please note that some areas of the event will not be accessible due to steps.
Please add a carer ticket to your basket when booking your tickets. On the night, you must provide proof of disability (this can be a DLA or PIP letter, Blue Badge, or letter of diagnosis from your GP.) If you have any accessibility questions relating to Sundown Spectacular or require any further help, please feel free to email us at:  customer.information@warwick-castle.com
Sundown Spectacular is an evening of street food, live entertainment and audio-visual spectacle. The nature of the show will be crowded and noisy. Kindly note that tickets are not refundable if you choose to leave the show at any time. Whilst this event is family friendly it does contain pyrotechnics and loud music and therefore may not be suitable for very young children.
Please ensure that under 18s are supervised at all times.
Yes, the Warwick Castle retail store will be open on the evening.
Yes, there will be some seating provided in dining areas but not in the main entertainment area. Please be considerate of other guests when setting up seating areas. Tables, BBQ's and candelabras are not permitted.
For the enjoyment of all we are a smoke free venue.
Unfortunately not, we kindly ask that as the castle closes to daytime guests (5pm) you make your way to the exit while we prepare the arena for the evening event and complete technical checks.  We will direct you to a waiting area. The event opens at 6pm. 
There is very limited indoor/covered area, please come prepared for the great British weather. Umbrellas are permitted.
We are a cashless attraction and only accept card payments
We will have a wide range of food options available, please speak to the individual food traders at the event to make them aware of your dietary requirements 
Tickets will only be available pre-booked to ensure that we are managing capacities in a safe manner.
Sundown spectacular is free for all Knights Village guests. You will not need to book a separate ticket.
Yes, please add an under 3 ticket to your basket when booking your tickets.
Most of the event is outdoor and accessible to pushchairs. Some areas are not suitable.
Fireworks & finale will be at 9.20pm, with a DJ & after show 9.30pm to 10.30pm.
No. This is an outdoor event with a festival vibe, with street food & outdoor bars situated at strategic locations and entertainment in the main Castle Courtyard.