FUN DAY OUT IDEAS
Friday May 12th 2023
Ellie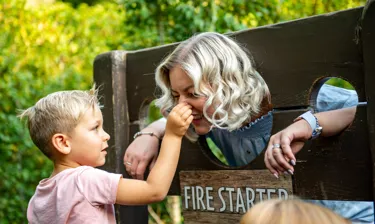 With an extra bank holiday this May for the coronation of King Charles III, and a half-term holiday, we've got plenty of ideas for days out with kids this month! We've come up with 6 reasons to visit Warwick Castle this May, where there is something for everyone…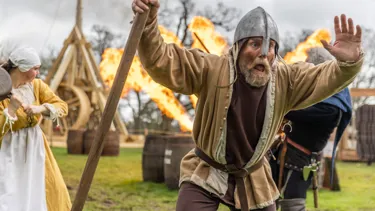 1. LOTS OF LIVE ACTION
Brand new for 2023, join these unlikely heroes as they retell the Legend of the Trebuchet. Armed with anything from swords and spears to frying pans and turnips, this rag tag bunch of peasants will do whatever it takes to defend the castle and save their home! Our favourite part is the special effects, with flames and water explosions – it's not one to miss for a fun family day out!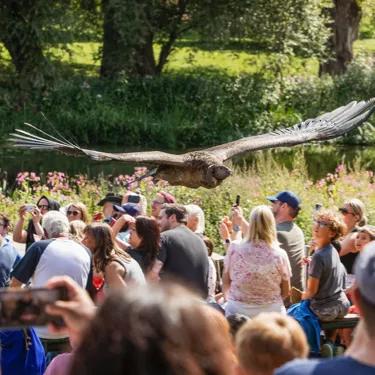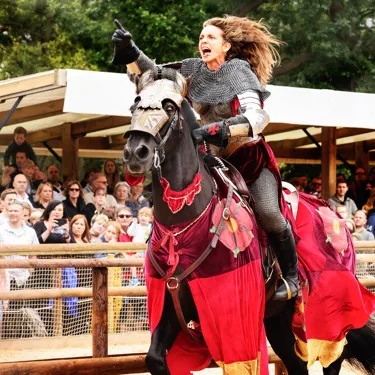 2. AMAZING ANIMALS
For any animal lovers, join Hobby and learn more about our majestic birds of prey in The Falconer's Quest. We'll present you with the fastest bird species, the heaviest eagles, and biggest owls, and the bird with the largest wingspan - to name but a few!
Also returning this May, ready for the Whitsun half term, is Wars of the Roses LIVE!, with a brand-new spectacular stunt finale! Horse lovers and animal enthusiasts can get up close to the action as majestic horses charge, swords clash, and the crowd will roar. It's up to you to choose your side for the best day out… red rose or white rose?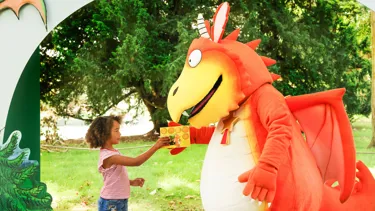 3. THE REALM OF ZOG
Zog superfans can enjoy a fun day out with the full Realm of Zog this May with the return of Zog Live Show from the final May bank holiday weekend (May 27th ). The show includes live puppetry, interactive routines and surprise special effects that will entertain all budding dragons.
Plus, children can enjoy the Zog and the Quest for the Golden Star interactive trail and learn to become a fully-fledged dragon! With plenty of photo opportunities and interactive elements throughout, younger children can complete all five lessons and Zog himself will even present little dragons with a golden star!
For an extra special play area experience, slide into Zog Playland, fly like a dragon on a winged zip rope and explore the turrets of Princess Pearl's Tower. Combining both sensory and physical play, and accessible activities, Zog Playland is enjoyable for all to experience on days out with the kids.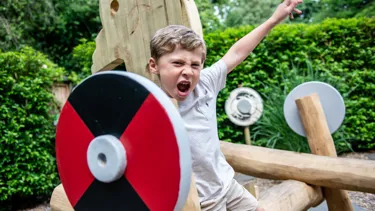 4. HORRIBLE HISTORY
Get lost in time this May as you travel through time through the twists and turns of the Horrible Histories Maze. to see, do, and smell in this adventure through the murky depths of time. Discover the Vicious Vikings, Stormin' Normans, and centuries more - with interactive games and challenges allowing budding time travellers to become a part of history.
History buffs can explore the Measly Middle Ages all the way to the Frightful First World War, and get lost in the newest time zone - The Vile Victorians! 
And of course, our fabulous History Team are fountains of knowledge for all of the extra-gruesome facts for hardcore history fans!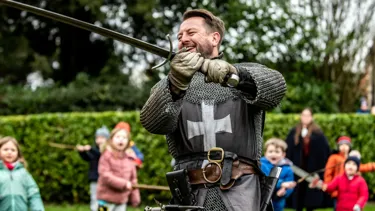 5. LEARN SWORD SKILLS WITH KNIGHTS AND PRINCESSES
The Princess Tower returns with a brand-new story this May, and the princesses need your help to bring light back to Warwick and return the rightful ruler to the throne! Help the princesses solve the riddle to crown Princess Eve as Queen of Warwick Castle and celebrate her coronation in this magical, interactive experience.
Older children can learn a new skill in the Warwick Castle Knight School and learn to swordfight everyday this May! While younger children can learn to fight with Sir Gadabout in the Zog and the Quest for the Golden Star trail, and how to capture Princess Pearl!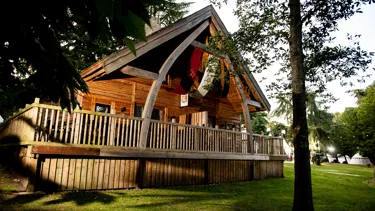 6. GLAMPING AND LODGES
There's so much to do, we wouldn't be surprised if you need a rest! Don't forget Medieval Glamping returns from 5th May, and relax with a well-deserved short break in our Knight's Village accommodation, right on the bank of the River Avon.
Book Now
With plenty on this May, we'd love to see your visit on social media! Make sure you tag us in your day out pictures @warwickcastleofficial