The Castle Dungeon
Live and breathe Warwick's darkest history... if you dare!
Open every day
Shows throughout the day
Recommended age 10+. Under 18's must be accompanied by an adult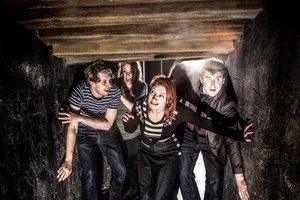 Come on in...
Arrive at The Castle Dungeon at your allocated time and introduce yourself to our resident Jester. They'll prepare you for your gruesome journey through 300 years of Warwick Castle's darkest history.
Head inside and travel through time with the Monk. They'll take you to the darkest times across Europe... are you sure you're safe in the castle walls?
...Keep your eyes peeled, or the Torturer may prove you're not...
Our dreaded Judge will decide your fate, so stay on their good side or you'll end up in the Execution Room...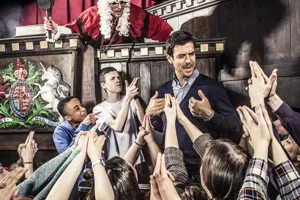 ... don't get too comfortable
If you escape, you'll learn all about the tale of the "Cursed Castle" from the vengeful Witch - do you think you can handle it?
Age restrictions apply, please see below for more information.
Please note you must also have a castle ticket to enter The Castle Dungeon.  
IMPORTANT INFORMATION
The Castle Dungeon is an immersive experience that should only be visited by the bravest and those with strong stomachs...
As such, The Castle Dungeon is not suitable for infants or children under the age of 10 years
Anyone under the age of 18 must be accompanied by a parent or guardian (aged 18 years or older)
Due to the scary and jumpy nature of this attraction, The Castle Dungeon is not suitable for pregnant women, people with heart conditions or those of a nervous disposition
The Castle Dungeon is not suitable for people with claustrophobia due to the enclosed space, narrow pathways and small rooms
There are spiral staircases without handrails throughout
The experience features strobe lighting, with the addition of extra lighting and special effects in the final room
Some areas of The Castle Dungeon include minor motion movements and smoke effects which may not be suitable for guests with back or lung conditions - if you would like any further information regarding this please contact us before you book
Registered assistance dogs are not permitted to enter The Castle Dungeon due to low lighting, steps throughout, light effects and loud noises
Disabled guests (and/or a registered Carer) without physical impairment wishing to experience The Castle Dungeon must purchase a ticket to experience the full attraction
Disabled guests (and/or a registered Carer) with physical impairment(s) restricting mobility can experience the final four rooms free of charge, which are standard wheelchair accessible. Please speak to the team at The Castle Dungeon entrance for more information
Please notify a member of the team if you would like to end your Castle Dungeon experience before the end. Please note however, tickets are non-refundable and non-transferable.
ADDITIONAL SAFETY MEASURES
All traitorous guests must pre-book online as pain of punishment...
There is reduced capacity for this experience, to allow for (anti) social distancing throughout.
Please be aware that bigger groups of peasants will be separated to accommodate this.
New techniques and guest interactions will delight and repulse in equal measure.
Dungeon storytellers will wear new historically themed face coverings or deliver the experience from behind a physical barrier.
All visitors must bring and wear a suitable face mask throughout their experience in The Castle Dungeon – or else we'll send you to the Torturer!
There'll be new routes and signage throughout - you'll need to follow these as you wander down winding, rat infested alleyways… you wouldn't want to get lost in the bowels of the Dungeon, now, would you?
Enhanced cleaning, hygiene stations and hand sanitiser is in place at key locations for grubby traitors to use throughout.
Feeling a bit peaky? We would request you don't visit – we've got enough buboes already.