History Talks
Join a free tour and find out more about our fascinating past from an expert historian.
Available every day
Talks throughout the day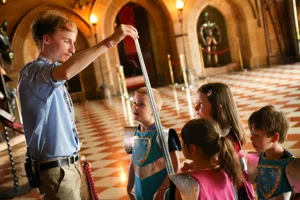 The Warwick Castle History Team
Warwick Castle is proud to have a team of expert historians who love, cherish and retell the castles rich history through exciting talks and tours.
Taking place every day, the History Team conduct engaging talks and tours, coverage a range of popular topics including the past owners of Warwick Castle, to a deep dive into the castles weaponry collections!
Have a question? Why not put our History Team's knowledge to the test! The team are always on hand in the Great Hall and eagerly await your thoughts, questions and theories.