Rainy Day Guarantee
Rained on the day of your visit? You could return again for FREE!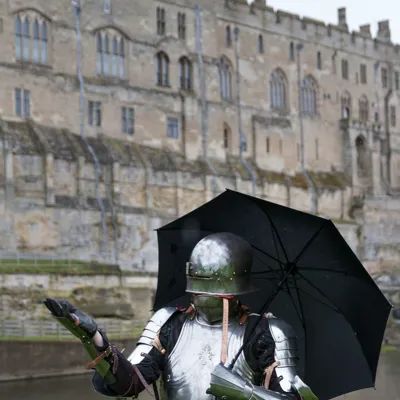 Rained on the day of your visit?
Our Rainy-Day Offer is exclusively for guests who pre-book their tickets online.
If you purchase your tickets online and it rains for one hour or more during your visit, we will guarantee you a FREE return visit to the Castle, Grounds and Gardens.
Your FREE return visit must be claimed within 60 days of your original ticket date.
If you visited within 60 days prior to the castle closing in March 2020, your ticket will be valid for re-use within 60 days of the castle's re-opening date.
All you have to do is present your tickets from your first visit at the ticket office window/s and you will have another day out for FREE!
When did it rain?
| | |
| --- | --- |
| If you visited on..... | You have until.... |
| 22/02/2020 | 05/08/2020 |
| 24/02/2020 | 07/08/2020 |
| 05/03/2020 | 20/08/2020 |
| 09/03/2020 | 24/08/2020 |
| 15/03/2020 | 30/08/2020 |
| 18/03/2020 | 02/09/2020 |
| 16/06/2020 | 15/08/2020 |
| 17/06/2020 | 16/08/2020 |
| 07/07/2020 | 05/09/2020 |
| 08/07/2020 | 06/09/2020 |
| 13/07/2020 | 11/09/2020 |
| 25/07/2020 | 23/09/2020 |
Rainy Day Guarantee T&C's
If it rains at Warwick Castle on the day of your visit you will be entitled to return for a FREE castle only visit within 60 days of your original ticket date. Free tickets will only be given upon presentation of the original ticket from your first visit. Photocopies and original booking references are not acceptable. Offer only valid when it rains continuously for one (1) hour or more. Weather conditions will be recorded by Warwick Castle and our decision will be final.
No cash alternative is available, tickets cannot be sold. This offer cannot be used in conjunction with any other offer. Return visit/s are subject to availability see website for opening dates and times. Free tickets will be issued like for like – An adult ticket in exchange for an adult ticket and a child ticket in exchange for a child ticket. Secondary attractions are excluded. Should it rain on your return visit, tickets will not be transferable. Car park charge and park regulations apply. Excludes; Trade Groups, Schools, pre-organised events and Halloween After 5pm tickets.
Warwick Castle has the right to withdraw the Rainy Day Guarantee offer at any time.
To take advantage of this offer pre-book your tickets online.