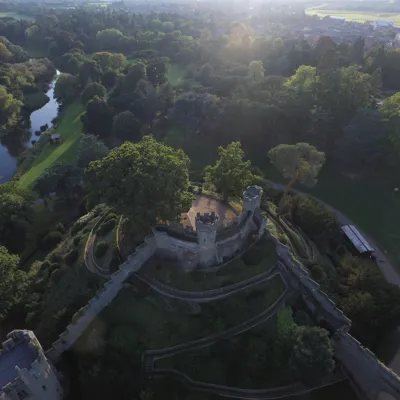 SPECTACULAR SCENERY
From intimate gardens to wide open spaces and sweeping views, our beautifully groomed grounds offer an extra special backdrop for your special occasion. 
Perfectly placed in the heart of Warwick, with the River Avon running through the estate, Warwick Castle has 64-acres of open spaces to choose from.
Originally built in 1786, today The Conservatory offers a stunning terrace atop the Peacock Garden, aptly named after its feathered residents and tucked-away within the castle grounds.
Beneath it, you'll discover Pageant Field, designed by none other than Lancelot "Capability" Brown and offering breath-taking scenery. 
The East Front lawn provides iconic castle views at the foot of Guy's Tower, dating back to the 14th century.
Through the Barbican, you'll find our central Courtyard, neatly surrounded by towers, turrets and ramparts with access to the main house and original Mound.