Zog and the Quest for the Golden Star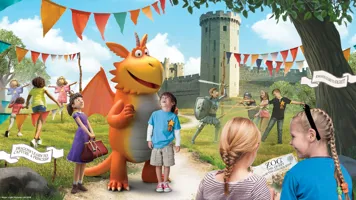 Zog and the Quest for the Golden Star trail!
The activity trail teaches all budding dragons in training the skills they need to become a fully-fledged dragon.
While Zog may have struggled to master the essential dragon arts of flying, roaring and breathing fire, he'll apply his new skills to help children with five interactive activities that mirror his own lessons.
From flying high without actually leaving the ground, to testing-out fearsome roars...and of course learning to capture a Princess, children will collect a stamp at every task.
After joining in with Sir Gadabout's school for ambitious Knights as a final challenge, Zog will be available for a meet-and-greet to hand out golden stars and to pose for a photo with every child.
One day admission ticket including live entertainment
Save up to £15 per adult when you book in advance
Rainy Day Promise included
One day admission ticket
Overnight stay in the Knight's Village
The ultimate pass for Zog fans
Visit Zog attractions and trail again & again
Great Passholder perks
Exclusive discounts including dining, shopping and special events
Zog © 2010 Julia Donaldson & Axel Scheffler. Licensed by Magic Light Pictures Ltd. © Magic Light Pictures Ltd. 2018 & 2020.