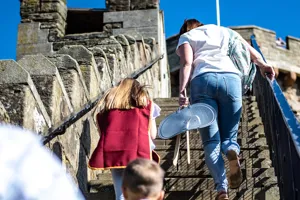 Guy's Tower was built in the 14th century and was used to host guests of the earl. The higher the status of the guest, the higher they resided in the tower. This tower, at first glance, appears to be the tallest tower of the Castle at 29 metres high. However, Caesar's Tower, which starts from lower down, actually stands taller at 40 metres high.
Caesar's Tower
Caesar's Tower is one of only two Quatrefoil towers in the country. Our tallest tower, and home to our beautiful tower suites, Caesar's Tower is a remnant of fashionable 14th century Anglo-French architecture.
Ramparts
Peer over the battlements where knights once fired arrows and climb the steps designed to ward off enemy soldiers. Master the steps and be rewarded with a view fit for a true knight. Once on the ramparts, you can put yourself in the shoes of a castle defender. Peek through where arrows once flew and peer over where sewage was thrown onto attackers below.