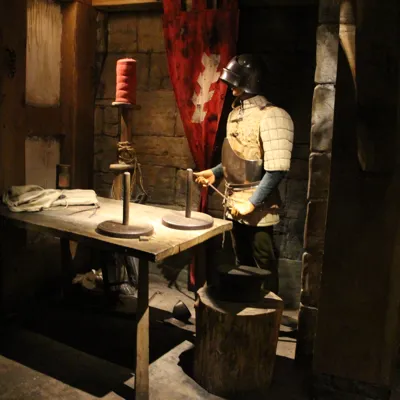 PREPARING FOR BATTLE
The year is 1471 and Richard Neville, commonly known as "Warwick the Kingmaker" is preparing his army for battle. 
The Wars of the Roses started in 1455, when Richard, the Duke of York, declared war on his cousin, King Henry VI of Lancaster, fighting over their rights to the throne.
By 1461, Edward was now the Duke of York and Richard Neville, the Earl of Warwick, was fighting alongside him. Richard Neville had one of the largest armies in England and when Edward was officially crowned King Edward IV, his success was largely dependent on the Earl of Warwick.
Richard Neville, at the time, was the most powerful man in England, with more land, money and a larger army than anyone else. However, after a few years, the relationship between the King and the Earl of Warwick began to break down.
Years later, key members of the Lancastrian family convinced Richard to change sides, and so he led Lancaster's armies against Edward and the House of York. When Edward fled, Richard released Henry VI of Lancaster from the Tower of London and had him re-crowned.
On Edward's return, Richard Neville and his soldiers gathered in Coventry, and on 14th April 1471, Richard would lead his army one final time at the Battle of Barnet.