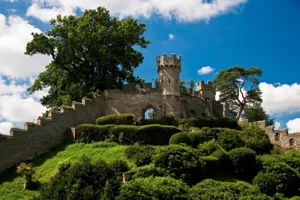 Towering over the courtyard, the Mound is the oldest surviving part of the castle, having stood since castle was built in 1068 by William the Conqueror. The mound originally housed the stronghold for the castle, which was one of many strategically placed motte and bailey castles to aid William the Conqueror in his ongoing plan to solidify his control of England.
Once you've conquered the walk to the top, views from the Mound are spectacular, stretching across Warwick town. It was this strong vantage point and natural defences that drew William the Conqueror to Warwick.
In the 17th century, as the defensive purpose of the mound had become obsolete, a stone observation platform was built for guests and residents of the castle to take in the sights of Warwick town.