The Falconer's Quest
Don't miss your chance to see the UK's biggest bird of prey show and marvel at the skies overhead, as up to 60 high-flying birds take flight.
A BREATHTAKING DISPLAY
Join the Falconer on a quest for the finest birds across the land in our all-action, dynamic display of aerial acrobatics, set in a stunning riverside location within the castle grounds.
Back by popular demand, this critically acclaimed show returns in 2021. Featuring up to 60 magnificent birds, with huge wingspans of up to 9 foot, this impressive display will have you amazed.
Discover wild and wonderful bird species from across the globe, including the world's fastest bird species, the heaviest eagle and largest owl species, to name a few.
Check our live entertainment and shows schedule here.
Warwick Castle is a great day out and the Falconer's Quest is a spectacular addition to the package.
This educational and entertaining extravaganza will have visitors of all ages in awe!
It's an amazing spectacle!
It was so impressive we went back the next day to see it again.
Our spectacular birds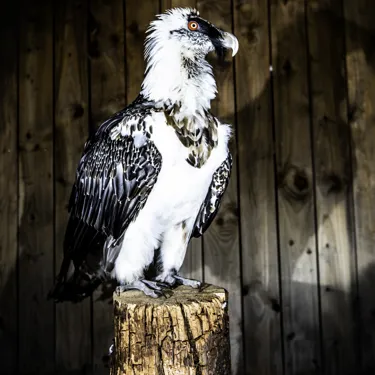 Barty
Lammergeier
Wing span: 2.75m
Weight: 7.8kg
Bearded Vultures feed mainly on bones, if a piece of bone is too big, they pick it up in their talons and drop them from height to break it in pieces.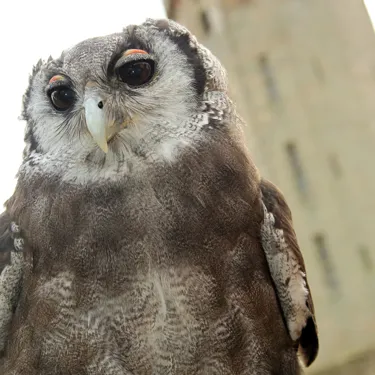 Ernie
Eagle Owl
Wing span: 4ft4
Weight: 2.7kg
The Eagle owl is the largest owl species in the world! This type of Eagle Owl is the only type of owl to have pink eyelids.
Wolf
Harris Hawk
Wing span: 1.3ft
Weight: 0.3kg
Harris Hawks are smart and sociable birds and so like to hunt in packs. This type of hunting behaviour is where this guy got his name from.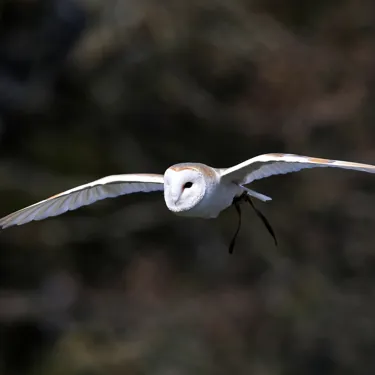 Oscar
Barn Owl
Wing span: 1.2ft
Weight: 1.1kg
Did you know that Barn Owls have lop-sided ears? One is higher than the other, which helps them to pinpoint exactly where sounds are coming from.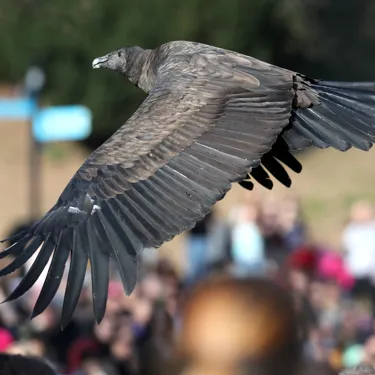 Rosie
Andean Condor
Wing span: 9ft
Weight: 15kg
A true marvel to watch, this large bird is a national symbol of six countries and is an emblem of power and health in ancient Andean mythology.
Marvin
Steller's Sea Eagle
Wing span: 8ft
Weight: 9.5kg
The Steller's Sea Eagle is a huge and heavy bird! Their dark brown and black plumage contrasts beautifully with their bright yellow bill and feet.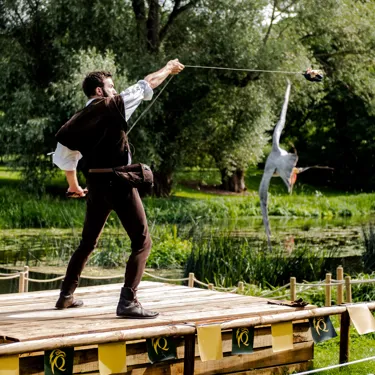 Flash
Peregrine Falcon
Wing span: 3.7ft
Weight: 1.3kg
The Peregrine Falcon is the fastest animal in the world! This bird of prey spends its time reaching speeds of over 200mph, whilst diving for prey.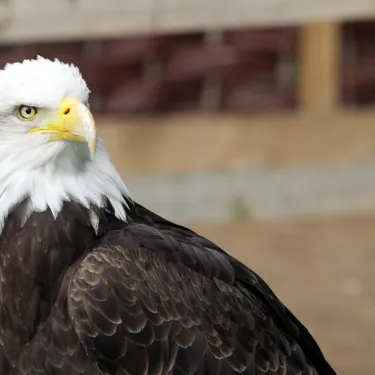 Henry
Bald Eagle
Wing span: 7.5ft
Weight: 6.3kg
The Bald Eagle is the national bird of America and they are not actually bald. The name comes from an older meaning of the word, "white headed".