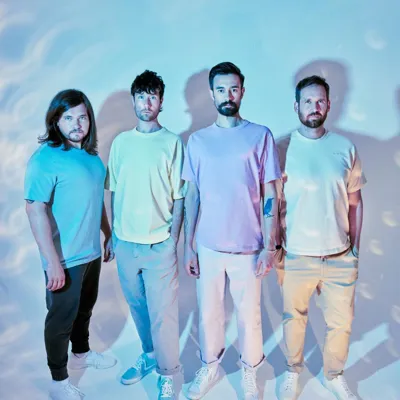 Bastille celebrate the 10th anniversary!
Frequently Asked Questions
Bastille will be performing at Warwick Castle on Wednesday 19th July.
Gates to the event open at 5pm, specific set times will be released closer to the event.
The event will be held in the castle courtyard on the grounds of Warwick Castle. 
General admission tickets are priced at £48.50.
The curfew to the event is 22:30.  
Under 14's must be accompanied by an adult. No under 5's 
Residents with a CV34 post code are entitled to an exclusive 48 hour pre-sale.  Residents can access these tickets by heading to https://futuresound.seetickets.com/event/bastille/warwick-castle/2454537?offercode=postcode&pre=postcode and entering their post code in the special offer code box on the website.
There is a maximum is 8 tickets per card. 
No, tickets do not include entry to Warwick Castle.  
Within the Walls is a series of live music events taken place within the walls of historical heritage sites, including Warwick Castle.  
You can purchase tickets by clicking here https://futuresound.seetickets.com/event/bastille/warwick-castle/2454537. 
Futuresound Events offers a complimentary companion ticket for customers with disabilities (subject to availability). You will be asked to provide your DLA, PIP, benefits letter or equivalent, registered severely sight impaired card, assistance dog card or other evidence. 
Customers must purchase general admission tickets and are then advised to complete an access form to apply for their compilatory companion ticket.  
If you have any specific questions regarding accessibility, please contact accessbookings@futuresoundgroup.com 
To apply for access / companion passes please fill in the form here.
There will be an accessible viewing platform.  Please note, there will be limited capacity on the AVP which will be allocated on a first come first served basis.  Customers must apply for a space on the platform in advance by completing an access form here - futuresoundgroup.com/access-form-warwick 
Chairs are only permitted with a pre-booked access ticket.
Yes, disabled toilets will be on site. 
Free parking is available onsite for Blue Badge holders. 
Warwick Castle is an outdoor greenfield site. Attendees will need to travel across grassy terrain to access the viewing platforms and other areas of the event. Should we experience rain in the run-up to the events or on the day of the events the terrain could become muddy and harder to navigate, please come prepared for such conditions.  
Yes, parking onsite is £3 per car for evening events or £6 for the full day. 
No, we are a cashless event and therefore all purchases must be made using card payments.  
Official merchandise will be available to purchase from inside the venue.  Customer are advised not to purchase merchandise outside the venue as this is not licensed. 
There will be no cloakroom facilities and therefore nowhere secure to leave belongings.  
Unfortunately, umbrellas are not permitted as it will obscure for others.  
Any cameras that are deemed as "professional" will not be permitted into the venue.  
Permitted:  
Non-professional recording equipment (point & shoot camera, flip video camera etc).  
Not permitted:
Professional recording (photo, video, audio) equipment (no detachable zoom lens, tripods or other commercial equipment) selfie sticks.  
This is a ticketed event that is subject to capacity.  Should the event sell out in advance there will be no tickets available on the day, however, should the event not sell out in advance there will be tickets available to purchase on the day.  This will be communicated on the day of the event. 
There will be first aid trained staff on site throughout the event to assist with any incidents that may occur.  First aid points will be clearly signed throughout the site.  Warwick hospital is located 1.4 miles from Warwick Castle via the A429. 
Please contact the venue after the event to see if the item has been located [venue policy]. 
Your safety at Warwick Castle is paramount and we continuously liaise with the appropriate authorities to ensure robust security measures are in place.  In order to ensure this is a safe environment mandatory bag searched will be carried out and we may search you, your clothing or other items.  
Several items are prohibited these include: 
- Large bags.  Small bags are permitted, we class small bags as no larger than 35cm x 40cm x 19cm. Bags will be searched on entry. 
- Animals, with the exception of registered assistance dogs. 
- Banners, flags or laser pens  
- Glass 
- Alcohol  
- Large cameras 
- Recording equipment  
- There is no smoking/vaping permitted anywhere at Warwick Castle. 
There will be free drinking water available at the bars.  Customers are entitled to bring in one sealed 500ml water bottle, or 1 empty reusable water bottle (not glass or metal).   
If you have a medical condition then a doctor's note will permit diet-specific food and drink only, otherwise no other food or drink will be permitted.  
Lodges and Glamping tents are available on-site at the Knight's Village. Prices start from just £199 per couple for Bed & Breakfast.
Book through the link found at the bottom of the Concerts page here.