The Conqueror's Fortress
Climb The Conqueror's Fortress and discover the history of the oldest part of Warwick Castle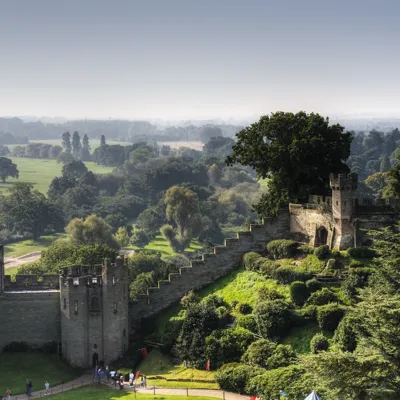 The oldest part of Warwick Castle...
The Conqueror's Fortress, also known as 'the Mound', is the oldest surviving part of the castle and has stood since the castle was first built in 1068. It is part of the original motte and bailey castle that William the Conqueror had constructed.

The Mound originally had a wooden keep on the top, which would have served as the castle's main stronghold. The Mound no longer houses a keep, which was replaced in the 17th century by a stone observation platform that offers commanding views over the surrounding area. Around the bottom of the Mound was a ditch, the earth from which would most likely have been used to build the Mound itself. In front of the Mound was the bailey, similar in size to our courtyard today, enclosed by a palisade and another ditch beyond that. A number of houses and workers' buildings including the blacksmith's forge, kitchens and stables were located inside the bailey.
Did you know?
The castle ditch was never filled with water due to its height above the river, but instead contained sewage from the castle.