Caesar's Tower
Caesar's Tower was built on the orders of Thomas de Beauchamp in the 14th century and is a great example of military architecture.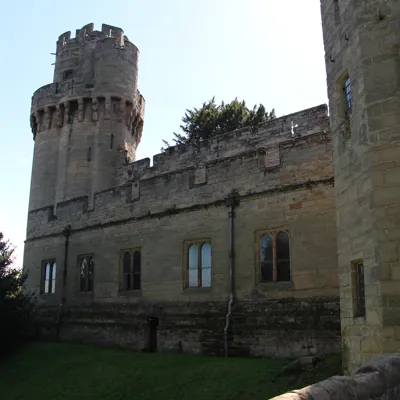 The tallest tower...
It is the tallest tower in the castle, and comprises four storeys, excluding the Gaol. It has an irregular quatrefoil or cloverleaf shape.
From the top of Caesar's Tower you can see the remains of a ruined medieval bridge. This bridge was formerly the entrance into Warwick from the south and enabled the Earls of Warwick to charge a toll for visitors entering the town. The bridge was ruined by the 18th century and a new bridge was built further up the Avon, which you can still see today.
This tower now holds two magnificent bedrooms, the Peacock Suite and the Rose Suite, commonly known as the Tower Suites, which provide luxurious accommodation for overnight guests. 
Did you know?
King Edward IV was held prisoner by the Kingmaker in Caesar's Tower in 1469.