The Mill & Engine House
* Please note The Mill & Engine House is closed until further notice*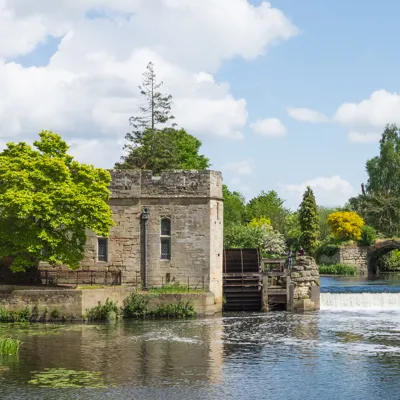 A piece of history...
A water mill has been sited on the south side of the castle, next to the river Avon since the late 14th century, originally used to grind corn for use in the castle kitchens but also for local farmers (at a charge of course).  During the 17th century an engine house was built. Initially it was likely that the Avon River would have provided the power via the water wheel but, as the Industrial Revolution continued, it is likely that water would have been coupled with the new power of steam.  The wheel would have been used for pumping water into the castle. However often at this time water wheels would also be used to drive saw mills, so it is possible that this may have also been the case at Warwick. It is certainly the case that it powered a metalworking lathe as one can be found in the water turbine room.
In 1884 an electricity generating plant was installed which supplied electricity in the form of direct current to the castle until 1940, when the castle was connected to the National Grid. The plant was abandoned completely in 1954.
In 2002 Warwick Castle invested £2 million on restoration of the Mill and engine house in order to open it to the public.