Attractions
The Castle Dungeon
Live and breathe Warwick's darkest history... if you dare!
IMPORTANT INFORMATION
The health and safety of our guests and team is our top priority and further to the Government's updated advice on Covid-19 coronavirus, we have made the decision to temporarily close the Warwick Castle Dungeon as a precautionary measure.
Moving forward, we will remain in contact with the relevant authorities on when we can re-open.
Thank you for your cooperation and understanding.
For more information, please visit here.
Warwick's darkest history...
Our resident Jester will prepare you for your journey through 300 years of Warwick Castle's darkest history.
Travel through time with the Monk as they take you to the dark times across Europe... are you safe in the castle walls? Don't worry, our doctor will help you in that crisis.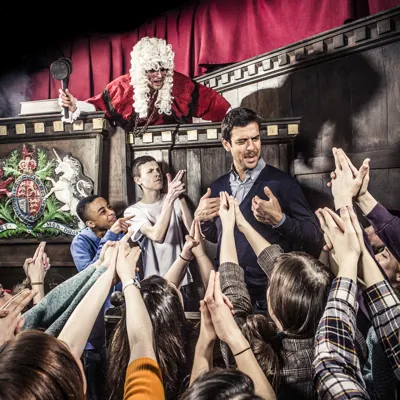 ...before your very eyes
Make sure you don't misbehave down there, or the torturer will be having you! Our dreaded judge can decide your fate, might want to stay on their good side or you'll end up in the execution room...
Before you go, you'll learn all about the tale of the Cursed Castle - do you think you can handle it?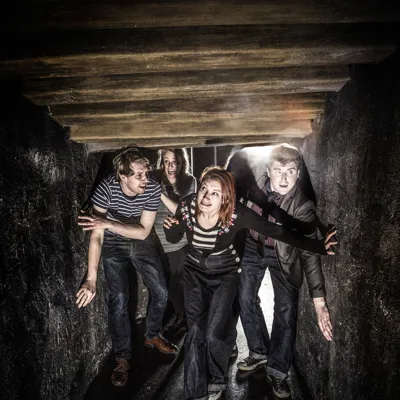 Visitor Information
The Castle Dungeon is an interactive, participative interactive experience that should only be visited by the bravest and those with strong stomachs!
As such, Children under age of 5 are not permitted to enter the Dungeon Attraction
The Castle Dungeon is not suitable for children under the age of 10 years old. Anyone under the age of 18 must be accompanied by a parent or guardian aged 18 years or older.
Due to the scary and jumpy nature of this attraction, the Castle Dungeon is not suitable for pregnant ladies, people with heart conditions or those of a nervous disposition.
The Castle Dungeon is not suitable for people with Claustrophobia due to the enclosed space, narrow pathways and small rooms.
Babes in arms cannot be carried through the Castle Dungeon.
There are spiral staircases without handrails in the attraction.
There is strobe lighting in the Castle Dungeon with the addition of extra lighting and special effects in the final room.
Some areas of the Castle Dungeon include minor motion movements and smoke effects which may not be suitable for guests with back or lung conditions - if you would like any further information regarding this please speak to a member of staff prior to entering the Castle Dungeon.
Registered assistance dogs are not permitted to enter the Castle Dungeon due to low lighting, steps throughout, light effects and loud noises.
Disabled guests (and carer) without physical impairment wishing to experience the Castle Dungeon attraction must purchase a ticket to experience the full attraction.
Disabled guests (and carer) with physical impairment restricting mobility can experience the final four rooms free of charge, which are standard wheelchair accessible. Please speak to the team at the Castle Dungeon entrance for more information.
The Gaol, the original dungeon, is a separate area and can be accessed nearby free of charge, please refer to the map for more information.
Please speak to a member of the team if you would like to end your Castle Dungeon experience. Please note, tickets are non-refundable and non-transferable.