Attractions
Kingmaker
Kingmaker will take you on a journey through the preparations of war!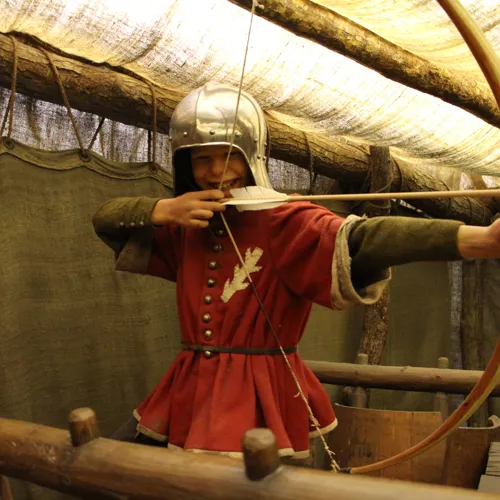 A Medieval Army
In the run-up to Easter Sunday 1471 Warwick's army were busy preparing for battle. Preparations were undertaken by many including the blacksmith, stonemason, treasurer, seamstress, cobbler, and, of course, the bowmen and soldiers. The Kingmaker attraction will take you on a journey through these preparations by immersing you in the sights, sounds and smells of medieval England.
Who was the Kingmaker?
In 1449, Henry VI bestowed upon Richard Neville, the husband of Anne de Beauchamp, the title Earl of Warwick. History was to know him better as Warwick the Kingmaker. The Wars of the Roses, which began in 1455 and ended with the Battle of Bosworth in 1485, was a prolonged struggle for supremacy between the Houses of York and Lancaster. The battle over who should control the king, or indeed, who should be king commenced.
Richard Neville's family connections made him a Yorkist. He held a command at the Battle of St Albans in 1455 which resulted in a Lancastrian defeat and the capture of King Henry VI. By 1461 the Yorkists had won the first war of succession and Edward, son of the Duke of York, ascended the English throne as King Edward IV. As a reward for his help, Richard Neville rose to a position of great power, but when Edward IV married Elizabeth Woodville behind Warwick's back, he found his influence diminishing.
Plotting with Edward's brother, George, Duke of Clarence, Warwick raised an army in 1469, took the king prisoner and held him briefly at Warwick Castle before moving him north to Middleham Castle. It proved impossible to rule through a captive king, and Edward was subsequently released. Warwick fled to France where, deserting his Yorkist allegiances, he offered his services to his old enemy, Margaret of Anjou, the exiled wife of Henry VI. They returned to England, caused Edward to flee, and restored the long imprisoned and highly manipulated Henry to the throne.
In March 1471, Edward landed back in England to break Warwick's fragile hold on power and to reclaim the crown. On Easter Sunday 1471, at the Battle of Barnet, the fortunes of war were to take one final twist for the embattled Kingmaker.